What Makes the Waste Go Down the Drain

Carl Brahe
Most of us don't think about plumbing unless it's
leaking or clogged
. We take for granted the joy of seeing the water go down the drain with a swirl and the sound of a toilet properly flushing. Outside of plumbers most of us don't understand how drains work, only that we don't like it when they don't.
A drain system is more than a series of pipes that take away our wastes. There are only a few components but when any one doesn't work right there can be trouble in the form of flooding, bacterial dangers to your health, horrendous smells and damage to building materials and even structure. If a drain system is properly designed and installed it should perform perfectly as long as it is not overloaded or abused.
If you pour too much water, too fast, into any drain it will overflow. If you put too much solid material for the drain size, it will clog. A properly designed drain system will carry away any amount of water that a building can drain at any one time. Apartment buildings need much larger drains than single family homes. If you have 50 people showering at the same time and another 50 flushing toilets the drains have to handle the flow without overflowing or coming up in other apartments. The drain system component at the top is one of the most important. It is the air vent that you see on top of most houses and commercial buildings.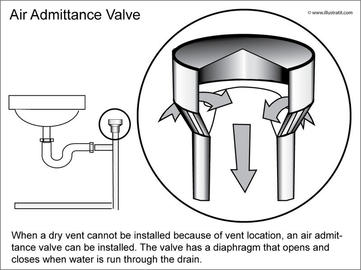 The air vent relieves the vacuum created in pipes by water flow that impedes the flow of liquids. If you've ever tried to pour a liquid into a container with a small opening you know how this works. If you use a funnel the liquid flow slowly when the neck of the funnel blocks opening. If you lift the funnel slightly so air flows around it the liquid flow quickly and smoothly. Another example is when you put one end of a straw in liquid and plug the other end with your finger. When you pull the straw out the liquid doesn't run out until you remove your finger allowing air to flow behind the liquid. There should be a
vent
on your roof for every room that has plumbing. Rooms with larger flows of water like bathroom and laundry rooms will usually have vent pipes with larger diameters than those from kitchens. If your drain gulps water rather than allowing an even flow the vent is probably missing or clogged. Plumbing drain vents can be installed inside at the actual drain where allowed by code to solve the problem of insufficient air flow behind the waste water.
The air vent above is important but the
air trap below
is even more so. Below every sink, toilet, floor drain or any other kind of drain is drain trap. The drain trap is a U shaped pipe that fills with water and prevents air from flowing back out of the drains. Sewer gas escapes into your home if these traps missing or not filled. Sewer gases can be explosive and poisonous besides smelling bad. If the trap develops a leak at the bottom the air seal will be absent. The same is true if it dries out from lack of use. This is common with floor drains that are seldom used. If you have a basement or laundry room that smells bad this might be cured by pouring a quart of water into your floor drains occasionally to maintain the water seal. If you are winterizing you will want to fill the traps with an acceptable antifreeze to prevent freezing and bursting. The fresh air vent above allows the wastes to flow downward and the traps below keep the bad air from escaping into the living areas.
The small drains in the building drain into successively larger drains until the main drain is reached and the waste is carried to the sewer or septic system. If the drains are large enough and are not clogged by breakage or blocked with waste the waste will flow out of your life with no need for concern or thought.
Sometimes when installing plastic drain pipes plumbers leave burrs that happen when the pipe is cut. If the plumber is careful these burrs will be sanded away before the sections are glued. The burrs can catch paper as it flows by eventually causing a blockage. To correct this defect the pipe must be cut out and replaced.
It's not uncommon to find drain pipes that run level or even uphill. Drains from garbage disposals are the most common. This can result in bad smells that you just can't identify and dish rags going sour too quickly. When you find this condition just replace the drain pipe. It will be clogged with nasty stuff and you may as well start clean. This plastic drain pipe is about 12" long and very inexpensive.
Smaller drains from sinks, baths and toilets run straight down to large drains.
These larger drains must be sloped between ¼" and 3"/ft
. Lesser slope causes constant plugging because the waste water runs too slow. If the slope is greater than 3"/ft the water runs too fast to move solids along.
In older homes a sewer system made of short sections of tile pipe fitted together with joints sealed with hemp fiber and lead. As the ground moves the sections separate allowing dirt in. In many places older houses have large trees that grow roots into the pipes and clog or break them. These tile pipes are usually replaced with continuous plastic pipes.
There are two ways to do this. One way is to dig up the old drain take it out and replace it with new plastic. The other way is to feed a cable through the old tile pipe. A breaker wedge is attached and behind the wedge the new plastic pipe is attached. The other end of the cable is hook to a tractor that pulls it through breaking the old tile pipe as is goes and pulling the new plastic from a large roll through the tile as it breaks. The entire drain is replaced this way without digging or destroying landscaping.
Before you buy a house, especially in an old neighborhood, or when you have drain problems more than once in a great while, an examination by camera is a very good idea. The cost of scoping a drain is usually $100-150. A video camera is pushed through the drain to examine the inside. Defects are identified and located by a device that communicates with the camera and provides precise locations. The camera is usually fed through the sewer cleanout, but can be fed from the roof through the vent system. Chronic sewer problems can be a major headache and expense. The cost of a sewer scan to identify the causes is small in comparison.
Drains will clog from use with hair and soap and the occasional towel flushed by the toddler next door. A healthy drain system is something you will probably never have to worry about except for minor clogs that can be cleared with a
Zipit drain cleaner
. A Ziipit is a plastic strip about 2 feet long with barbs that Is forced down the drain and when withdrawn pulls the blockage out. These drain cleaners are safe and efficient.
The occasional plumbing emergency is inevitable but if your drain system is free from flaws and its limitations respected it can be one of those parts of your home you never have to think about.
Ten Common Plumbing Mistakes -
BY REDWOOD KARDON pdf file
Wide Disparity In Sewer Estimates Prompts 4 On Your Side Consumer Investigation MAY 15, 2013 9:57 PM
Investigator Jodi Brooks reports on Denver area sewer scoping and repair. Some people in the business of repairing and replacing sewers are not honest according to this story on channel 4 news. The prices quoted to repair sewers after scoping varied drastically, in one case from $0 to more than $17,000. The prices to scope the sewer also varied with some companies adding hidden charges at the time of service, others provided video of damaged sewer lines that were from different properties.
-
Read More
-
---
DRAIN CARE PRODUCTS

---